Kiwifruit marketer ships SunGold directly to China, shaving weeks off transit time
Zespri has shipped over 4,000 pallets (3,300 tonnes) of Italian-grown SunGold kiwifruit directly to customers in China in time for Lunar New Year sales.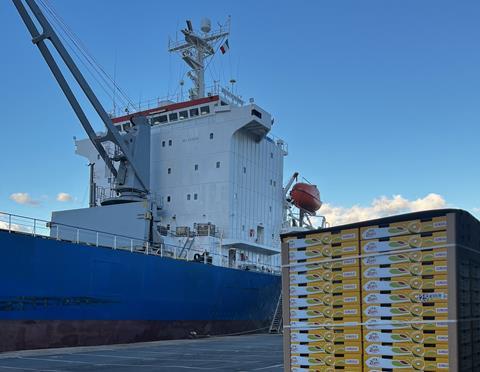 Carried aboard the Baltic Performer, the consignment arrived at the Port of Shanghai on 22 December. It was Zespri's first Italian reefer charter vessel.
The three-week charter transit window effectively halves the transit time of container shipments between Italy and China.
Zespri executive officer – Northern Hemisphere supply, Nick Kirton, said the successful voyage represented a significant milestone for the European kiwifruit industry.
"We could see the benefits shorter transit times and better temperature management across a single ship rather than multiple containers could bring in terms of improving fruit quality, with a charter vessel service also offering greater certainty at a time when we continue to see congestion and delays within the global shipping container market," Kirton said.
The shipment was the first under a protocol allowing charter vessels to export kiwifruit from Italy to China.
"While the protocol itself was approved in 2020, the Covid-19 pandemic has delayed its implementation, with the Baltic Performer the first international fruit charter to enter under the new protocol," Kirton explained.
Kirton said a key aspect of the direct service was the support of the Italian industry through CSO Italy and Fruitimprese.
"There's been a huge amount of work put into creating this new service over the last four years and we'd like to particularly thank our shipping and logistics partners in Italy – Cool Carriers, the Reefer Terminal in Vado, Tramaco and FRESCO, as well as in China – Shanghai South Port and Sinotrans PFS, and officials from both countries who helped establish the new protocol to support and implement this new direct service," Kirton said.
"There's a lot of excitement at seeing the vessel arrive safely, delivering fruit to our customers and consumers in China in time for their New Year celebrations when we know there's strong demand for our kiwifruit."