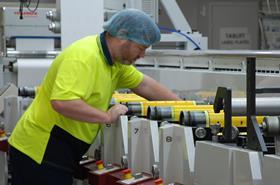 Label printing specialist J-Tech Systems has become the first Australian company to attain BRCGS certification for printing pressure sensitive labels for fresh produce.
J-Tech went through a rigorous BRCGS certification process in late 2019 before receiving BRCGS certification for 'flexographic printing and conversion of pressure sensitive labels made from a variety of materials such as PE, PP, PET, paper and compostable substrates for application to fresh produce'.
"The certification means our Sinclair labels meet the highest standards globally for food safety and quality printing, packing and storage," said Michael Williams, general manager of J-Tech Systems
"We are the only label printing company in Australia with this level of certification and I'm really pleased with the result and proud of our great team and the high standards they maintain."
BRCGS certification is a global standard for food safety and covers packaging and packaging materials, storage and distribution for consumer products. The BRCGS sets the benchmark for good manufacturing practices and helps provide assurance that products are safe, legal and of high quality.