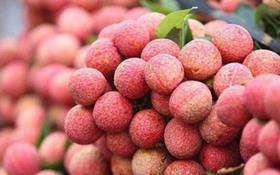 The Japanese Ministry of Agriculture, Forestry and Fisheries (MAFF) has granted a Geographical Indication (GI) certificate to lychees grown in Luc Ngan District in the northern province of Bac Giang.
A Tien Phong report indicated the Luc Ngan lychee is the first Vietnamese product to obtain the GI certificate in Japan.
Le Anh Duong, chairman of Bac Giang People's Committee, said this was good news for local lychee farmers.
"The GI certificate proved the quality of Luc Ngan lychee has international standards and then opening up for the lychees to be shipped in Japan and other markets with strict import standards," Duong told Tien Phong.
In 2020, about 200 tonnes of Luc Ngan lychees were exported to Japan, according to statistics from the provincial Department of Industry and Trade.
The Luc Ngan lychee has previously gained trademark protection in China, Laos, Cambodia, South Korea, Singapore and Australia.
It's believed the GI certificates registered in overseas markets will help increase sales, improve incomes, and contribute to regional socio-economic growth for Vietnamese growers.
Luc Ngan district is home to more than 15,000ha of lychee, mostly in Hong Giang, Tan Son, Quy Son, and Giap Son communes. Of which, several lychee growing areas fall in line with Global Good Agricultural Practices (GlobalGAP) and Vietnamese Good Agricultural Practices (VietGAP) to produce high-quality organic products for domestic consumption and export.
Đang Van Tang, head of the provincial Sub-Department of Crop Cultivation and Plant Protection, said the province is hoping to increase the total cultivation lychee area to approximately 219ha, generating 1,500 tonnes for the Japanese export market.
Tang said MAFF will continue to work with enterprises to expand the number of growing areas to be granted codes for export to Japan, and at the same time improve the quality of lychees to meet requirements.
He added co-operation with other ministries to build more facilities for export lychee fumigation and sterilisation would be also included.