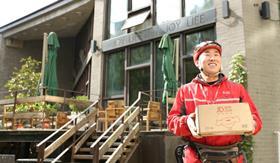 Chinese e-commerce platform JD has partnered with Dada Group to provide one-hour delivery services of daily necessities to JD customers.
According to Inside Retail, the partnership will see the launch of around 100,000 JDDJ-branded online stores on the JD platform, including nearly 100 chain supermarket and store brands such as Walmart.
It's an expansion of JD's omnichannel fulfilment supply chain innovation programme, which covers offline stores in 242 cities across China.
The programme was launched last year to integrate multiple offline channels, enabling them to deliver orders originating from JD directly and improving the efficiency of the supply chain – with delivery times shortened to an average of two hours.
The new partnership allows JD buyers to purchase and receive more than three million products from participating stores within an hour, with some products available for delivery within 15 minutes.
It's the latest addition by the e-commerce giant, which in April employed an automated robot to deliver the first box of Zespri kiwifruit for the 2020 season to the doorstep of one of it's customers.
In December last year, JD opened it's first 7Fresh Life, a store that offers restaurant facilities, fresh food supply as well as convenience.