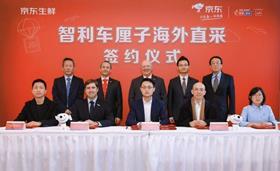 Four Chilean cherry exporters have entered agreements to directly supply Chinese e-tailer JD Fresh over the upcoming 2021/22 season.
Garces Fruit, Copefrut, Nature South and Fruittita Co signed the agreements at the Embassy of Chile in Beijingon Monday (6 December).
"This year, we are partnering with JD Fresh in the hopes of letting more Chinese consumers enjoy high-quality cherries," explained Hernan Garces, chief executive of Garces Fruit.
According to a release from JD Fresh, direct sourcing from Chile will ensure supply chain efficiency and create security of supply in the lead up to Lunar New Year celebrations.
Cherries are a hot ticket item for JD Fresh, with the transaction volume of cherries sold onthe platform increasing by 200 per cent year-on-year over the 12 months to 30 November (2021).
Luis Schmidt, the ambassador of Chile to China, was on hand to witness the signing of the agreement.
Schmidt said China remained the core market for Chilean cherries, with nearly 95 per cent of exports sent to the Asian nation.