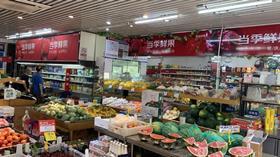 Beijing headquartered e-commerce company, JD.com, has launched its first franchised community fruit store in Beijing's Huixinbeili residential compound.
The launch coincided with the company's 618 grand promotion, with the store named Jingxuanhaoguo, which in Chinese which means "JD's select of quality fruits".
It's the latest community shop model devloped by JD Fresh, JD.com's fresh food business, to empower traditional 'mom-and-pop' stores, which often face challenges of quality procurement, transportation and storage.
During the pandemic, with a supply shortage stemming from wholesale markets, many small shops lacked procurement channels.
Product offerings and the ability to negotiate good prices are also often restricted due to the limited scale of 'mom-and-pop' operations.
JD's solution connects small store owners with procurement and transportation resources. Through a purchasing app, they have the ability to order all kinds of global fresh produce and have it delivered within the next day.
In a release JD said the solution improves the amount and quality of products provided to consumers but also saves operations costs and human resources. It also noted the programme would equip store owners with guidance on how to run their stores more effectively, benefitting both them and their customers.
"JD helped me upgrade my store down to the design. With the help of JD, my business is getting better and better," explained Liwei Zhao, the shop owner of the first Jingxuanhaoguo.
JD Fresh is helping Zhao to engage with neighbours through community group buying. Consumers can order products via WeChat mini programme and pick them up at Zhao's store. The model is expected to bring more repeat customers to Zhao's store.
Since the outbreak of Covid-19, JD said the community had played an important role in ensuring people's daily life, as movement restrictions have made proximity more relevant.
As a result, the "community-based economy" has faced both extraordinary opportunities and challenges. The company explained its Jingxuanhaoguo model is consistent with its overall plan to open up of its capabilities centred on supply chain to empower small and medium enterprises, stall owners and shopkeepers.