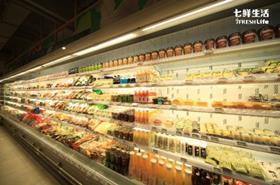 E-commerce giant JD.com's supermarket chain 7Fresh has opened the first 7Fresh Life, a new store which is open 24 hours a day, seven days a week.
7Fresh Life is a combination of a restaurant, fresh food store and convenience store. It provides more than 3,000 different items of fresh produce, daily groceries, ready-to-cook and ready-to-eat food, it is also equipped with an in-store dining area.
The first store is located in the Huilongguan residential area in northern Beijing and opened on 20 December.
The store is also connected to the 7Fresh app which allows consumers shop anytime and have items delivered to their doorstep as fast as in 30 minutes from the time of order.
Jonathan Wang, Head of 7FRESH,JD.com, said the aim of 7Fresh Life was to service the needs of families at any time.
"With JD's deep understanding of consumers and our strong supply chain providing global and local fresh produce and mealtime solutions, 7Fresh has become a trusted source for consumers buying fresh food offline,"said Wang.
"7Fresh Life will better serve the diverse and unique needs of Chinese families, providing for each person at any time for any need, online or offline."