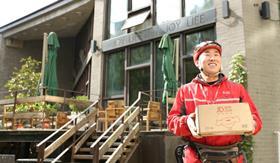 Not perturbed Covid-19, consumers ensured JD.com's 2020 6.18 festival was a success, with a transaction volume of more than Rmb269.2bn (US$38bn), a year-on-year increase of 33 per cent.
The festival began on 1 June and ran until 18 June and this year JD said the focus was on consumer experience with international brands, lower-tier cities, and livestreams all front and center.
Fresh food was the category that experienced the most growth rate with a 100 per cent year-on-year increase in online and offline sales.
Sales of over 1,000 fresh produce brands increased 100 per cent while sales of vegetables increased 160 per cent from the previous year.
These purchases were not only driven by China's significant consumer base, but consumers in Hong Kong, Japan, Singapore and the US with the volume of global transactions growing 271 per cent form 2019.
JD worked to increase its connection to consumers during the festival in a number of ways. Piggybacking on the growth of livestreaming in China, JD hosted over 300,000 livestreaming sessions.
It also sought to foster new user growth in lower-tier cities, in 2020 71 per cent of new users came from cities in provinces such as Henan, Sichuan, Yunnan.
Although JD.com started the 618 shopping festival, most of China's e-commence players holds their own mid-year sales campaigns.
Alibaba's Tmall had a successful festival, reporting Rmb698.2bn (US$98bn) in sales, a new record. The sale of specialty agricultural products such as Sichuan cherries and Yunnan mushrooms doubled year-on-year.
Asiafruit is now available to read on your phone or tablet via our new app. Download it today via theApp StoreorGoogle Playand receive a two-week free trial along with access to previous editions.