First Chilean cherries arrive by air and are sold under premium brand Joyvio, in cooperation with China Aerospace
In the early morning of 24 November, a flight full of Joyvio cherries arrived at Chengdu International Airport. This was the first batch of several independent charter flights to arrive in China at the start of the new Chilean cherry season.
It was also the first batch of co-branded fruit gift boxes, an initiative jointly launched by Joyvio in strategic cooperation with China Aerospace. In the following two days, this batch of Joyvio cherries was sent to wholesale markets in Shanghai, Guangzhou, Chengdu, and Changsha for sale.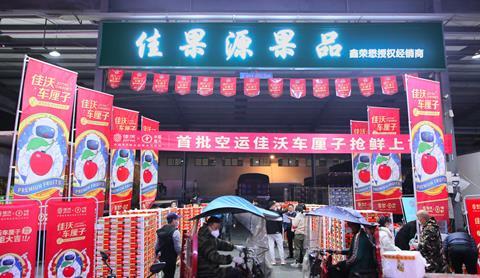 On the morning of Friday 25 November, Joy Wing Mau held a ceremony for Joyvio cherries at Chengdu Wholesale Market which attracted a great number of buyers. The gift box of Joyvio cherries and China Aerospace instantly created a buzz on the market.
In 2022, from being the official partner of the Chinese women's volleyball team to the strategic partner of China's Aerospace, Joyvio is committed to improving its quality standards. The gift box, symbolising Joyvio's aerospace-level quality requirement, will be introduced to meet the high-end gift needs ahead of Chinese New Year.
Joyvio cherries rely on the advantages of supply chain established in Chile to make sure domestic consumers can taste the high-quality cherries. They are picked, pre-cooled, sorted, vacuum-packed and shipped directly by air, travelling from orchard to market within 24 hours.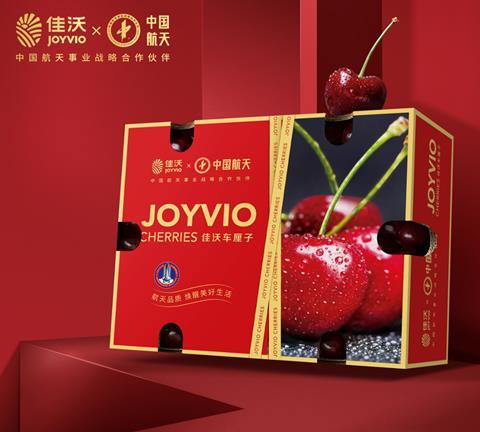 The Joyvio cherries arriving this year are popular varieties including Kordia, Santina, Regina, Bing, and Lapins. The average sweetness is above 17 Brix and the hardness is above 70P, 80 per cent of the Joyvio cherries are larger than jumbo sizes.
Joyvio cherries will arrive in various domestic consumer markets through a combination of air and sea transportation.
Later on, there will be a product launch in cooperation with JD.com, Olé, Rainbow, Ito-Yokado and other online and offline channels, focusing on Joyvio's cherries ahead of Chinese New Year. This will feature festive consumption scenes and social interactions that come with the gift giving of cherries.
As a high-end fruit brand of Joy Wing Mau, Joyvio cherries stand for high-quality cherries and leading freshness. With the slogan "Astronomy Quality Awakens a Better Life", Joyvio will use these popular fresh fruits from the Southern Hemisphere to awaken thousands of consumers' sincere yearning for quality life.