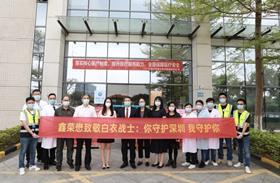 Leading Chinese fresh produce enterprise Joy Wing Mau (JWM) has responded to an urgent call from the Shenzhen municipal government to ensure a stable fruit supply on the market during the epidemic, swiftly moving large volumes from its national network of distribution centres to Shenzhen.
Shenzhen has been battling to contain a Covid-19 outbreak in recent weeks, and Joy Wing Mau was the first company to guarantee daily supply amid the city's epidemic prevention and control measures. Its Shenzhen distribution centre receives and dispatches thousands of tonnes of fresh fruit every day to more than 1,000 supermarket outlets and community stores in Shenzhen, and it provides full coverage of online and offline channels.
In addition, Joy Wing Mau is donating funds and supplies with a total value of Rmb5m (US$790,000), including Rmb2m-worth of fruit gift boxes to frontline workers in hospitals and communities. The group is also donating Rmb3m to support the battle against the epidemic in Shenzhen.
On 18 March, the first batch of 3,000 fruit gift boxes comprising Joyvio blueberries, Zespri Gold kiwifruit, Rockit apples, and Maonan citrus were delivered to the frontline hospital, Shenzhen Third People's Hospital.
Through the medium of fruits, the two sides have forged a deep friendship in the course of many concerted efforts to fight the epidemic and guard Shenzhen together.
For more information on Joy Wing Mau, visit the website: