Kenyan avocado exporter has begun harvesting the fruit for its inaugural consignment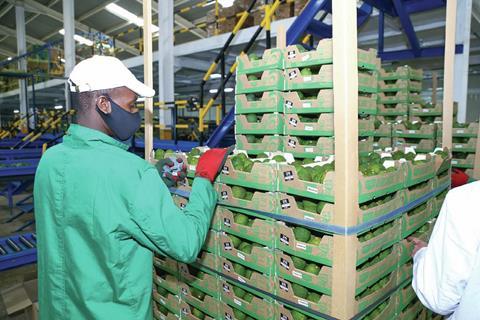 Kakuzi has commenced preparations for its first shipment of Hass avocados to China under a newly announced protocol.
The Kenyan avocado exporter has started field harvesting for the company's systems trial following the confirmation by government regulatory agencies that China has now provided the greenlight for fresh avocado exports to the market.
At the end of July, the Kenya Plant Health Inspectorate Services (KEPHIS) confirmed that the Chinese National Plant Protection Organisation (NPPO) had approved 15 orchards, nine packhouses and one fumigation facility, including Kakuzi's orchards and packhouses to export fresh avocado to China.
Subsequently, the General Administration of Customs of the People's Republic of China (GACC) published a list of orchards, packhouses and the fumigation facility authorised to export fruit to China.
Kakuzi managing director Chris Flowers said the company is planning to ship out the test run consignment at the start of August once the necessary pre-shipment approvals are secured from KEPHIS.
The test run involves field harvests, post-harvest packaging and phytosanitary management per Chinese phytosanitary protocols, which Flowers said will enable Kakuzi to fine-tune its internal processes in conjunction with the shipping and related agencies.
"The field harvests have started this morning, and we hope to prepare the first consignment to be shipped to China this weekend," said Flowers.
"In this trial phase, we intend to test the entire system capacity and fix any challenges between ourselves, the phytosanitary protocols facility and KEPHIS ahead of the planned larger shipments before the end of the next quarter."
Flowers commended the support and cooperation provided by the government of Kenya and its regulatory agencies, particularly KEPHIS, during the approval process.
He said this support has played a crucial role in diversifying Kenya's avocado export markets beyond the current major markets of Europe and Middle East.
Opening and growing new markets will be essential if the Kenyan avocado industry is to thrive as production increases, according to Flowers. China is a highly discerning and quality-conscious market, but Flowers said the Kenyan industry is well-positioned to capitalise as long as it adheres to the regulations laid down by KEPHIS.
"Currently, the Chinese market is relatively small compared to the European market. We hope that by exposing the discerning Chinese consumer to high-quality fruit from Kenya, that market will outpace the current exports into Europe," Flowers said. "The potential to grow the Chinese market demand is huge; if we maintain the highest quality standards for our exports."