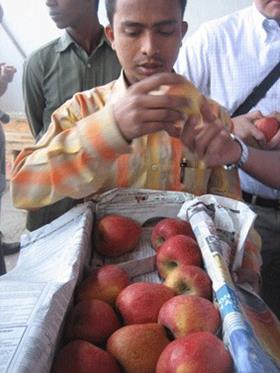 Fresh fruits from the Kashmir Valley were among the first products to benefit this week as an old trade route was reopened across the Line of Control (LoC) that divides disputed Kashmir.

Trucks carrying fruit, nuts and other products were flagged off by Indian officials from Salamabad in Indian-administered Kashmir on Tuesday, and fruit growers lined up on the LoC to see the vehicles.

There was excitement in the air as locals witnessed trade between the Kashmir Valley and Pakistan-occupied Kashmir (PoK) for the first time in more than 60 years. India and Pakistan have agreed to start cross-border trade from Kaman in Uri and Chakanda Bagh in Poonch.

Kashmir currently produces around 1.5m tonnes of fresh and dried fruits, according to local media reports, and its growers are particularly enthused by the opening of the trade route, as it should give them access to markets across Pakistan and the Gulf Countries via Muzaffarabad.

'Until now, fruit growers only had one market, but with the opening of the cross LoC route, via PoK, Kashmiri apples could be marketed across Pakistan,' Ghulam Rasool Bhat, president of Kashmir Fruit Growers Association, told local media.

Mr Bhat told reporters that growers had been assured by a PoK trade delegation that a terminal mandi (market centre) would be established in PoK where Pakistani traders would be able to buy produce from the Valley.

He is hopeful that when fully-fledged cross-border trade commences, prices of apple varieties will rise as demand for supplies increases.

On the Pakistani side, the mood was equally upbeat. Trucks carrying goods from Pakistani-administered Kashmir have begun to cross the LoC in Chakothi sector and enter Indian-administered Kashmir. Onions, garlic, spices and dried fruits were among the products shipped.

While the opening exchange of goods is highly symbolic, traders hope the trade link, which will operate from both sides bi-weekly, will grow into something far more significant.

Under the terms of the deal, lorry drivers from both sides are being issued single-entry permits to transport the goods, according to BBC News. Drivers from the Indian side will discharge their goods at Chakothi, where they will be collected by Pakistani trucks. Drivers from the Pakistani side will offload their goods at Salamabad, where they will be picked up by Indian lorries, the BBC reports.

Economists reportedly believe that that the reopening of the trade route is very important, because the Srinagar-Muzaffarabad road is an all-weather route, whereas other roads linking Srinagar with India become cut off when it snows. In addition, the route will cut the time it takes for Srinagar's produce to reach its markets.

Analysts predict that trade between India and Pakistan could reach US$6bn per year if both sides ease restrictions.