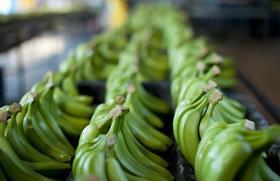 Kenyan farmers exported less than a tonne of bananas and broccoli to Korea this season, despite the two nations having agreed a bilateral deal some five years ago.
Business Daily Africa reports the Kenya Plant Health Inspectorate Service (Kephis) has attributed the low volumes to lack of awareness from the country's farmers.
The bilateral agreement initiated by Kenya in May 2015 was aimed at easing access to the Korean market for various products. It was a move that saw the country allowed to export unripe banana and broccoli, which would not require pest risk analysis as it is the case with other products.
Kephis urged interested groups and individuals to register with Horticulture Crops Directorate as an exporter for horticultural products.
"Kephis wishes to encourage the youth, women and farmers to increase volumes of unripe banana and broccoli to Korea as the market for these commodities is open," the agency said.
The Ministry of Trade last week raised concern over low export of green bananas and broccoli to the Korean market despite a ready market.
The export of the two products require a phytosanitary certificate from the regulator prior to export.
"[Growers] should register with Kephis by submitting statutory documents to be issued with credentials for accessing the Electronic Certification System in order to make electronic applications for inspection and issuance of phytosanitary certificates," added the regulator.
Phytosanitary certificates are issued upon inspection and confirming the bananas are free from pests and pest damage and meet quality requirements.