New research commissioned by Zespri shows kiwifruit has climbed two spots to the seventh most popular fruit in key markets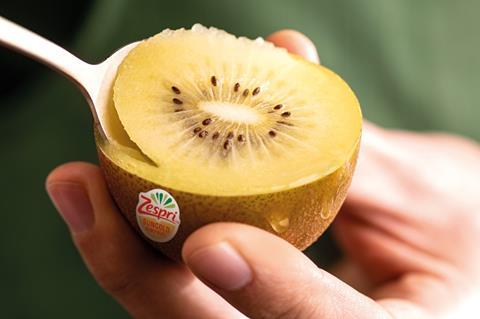 New Zealand kiwifruit marketer Zespri has welcomed new data that shows the rise in popularity of kiwifruit in recent years.
Kantar has tracked the rise of kiwifruit's popularity amongst other fruits in 15 of Zespri's core markets during the New Zealand kiwifruit season between 2018 and 2022. In that time, kiwifruit has climbed from an average rank of ninth to seventh.
The results highlight how sought after the fruit is across Asia, with kiwifruit taking out the number one spot in China in 2022 and 2021, up from 5th place in 2018. It has also been the third favourite in fruit bowls in Japan for the past three years in a row, also up from fifth place in 2018.
Kiwifruit also moved up the ranks across Europe, increasing in popularity in Belgium, Spain, Germany and Italy, as well as being a steady favourite in the Netherlands.
In Zespri's growth markets of Vietnam and the US, kiwifruit is becoming an increasingly preferred fruit, moving from 20th to 12th and 16th to 15th respectively.
Zespri's chief marketing, innovation and sustainability officer Jiunn Shih says it's fantastic to see consumers around the world increasingly opting for kiwifruit.
"It's really rewarding to see the increased popularity of kiwifruit in our core markets off the back of our investment in the brand to build demand and value for growers," said Shih.
"There's been a rebound in how much fruit people are consuming following the Covid-19 pandemic, with consumption expected to continue upward over the next five years.
"At the same time, kiwifruit currently only makes up less than 1 per cent of the global fruit bowl. This presents a huge opportunity for Zespri and our growers and we look forward to delivering impactful marketing campaigns across our markets to highlight the benefits of our great-tasting Zespri Kiwifruit and drive demand. We look forward to seeing kiwifruit continue its rise as a staple in fruit bowls globally and maximising the value we can return back to our growers and our communities."