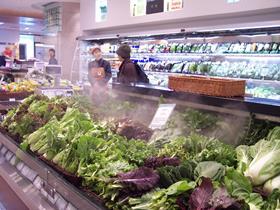 Salads have become increasingly popular with Korean consumers, both at home and at a growing number of dedicated eateries.
According to a report from Korea JoongAng Daily, once regarded as a side dish, more and more Koreans, particularly younger consumers, are turning to salads for main meals.
A survey conducted by the Korea Agro-Fisheries & Food Trade Corporation showed more than 20 per cent of people started buying more salads since the start of the Covid-19 pandemic.
Salad-focused restaurants have looked to capitalise on this trend, with the likes of SPC Group's Pig in the Garde reporting sales from January to July 2021 increased 68 per cent year-on-year. Meanwhile Salady opened its 200th outlet in August.
"We haven't seen a single store shut down after 2019, even during the Covid-19 crisis," said aSalady spokesperson. "We opened more than 90 new stores this year."
According to the Korea Rural Economic Institute (KREI) the market for fruits and salads has been trending upward. In 2020 it reached 1.14 trillion (US$968m), up 21 per cent from 936.9bn (US$796m), in 2019, which in turn was an increase of 5 per cent from 889.4bn (US$755m) in 2018.
"The use of vegetables by restaurants and food distributors is rising rapidly, in line with consumers' growing pursuit for health and convenience," said Kim Sang-hyo, aKREI spokesperson.
Costs also growing
While consumer interest in salads is growing, so is the price of vegetables in Korea.
According to Statistics Korea the country'sconsumer price index has been up around 2 per cent year-on-year each month between April and July 2021.
In July 2021 prices for agricultural, livestock and fishery products were up 9.6 per centyear-on-year with prices for apple, pear, grape, garlic, red pepper powder and chivesall increasing by double figures.
Meanwhile, data from the Korea Agro-Fisheries & Food Trade Corporation showed the wholesale price of spinach was up 92 per cent year-on-year.