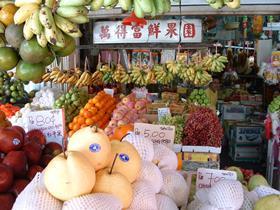 Malaysia's second Covid-19 lockdown has extended into February 2021 and its wholesale markets are feeling the effects of the restrictions.
Malaysia re-instituted its movement control order (MCO) on 11 January following a surge of Covid-19 cases creating challenges for wholesale markets.
At the end of January Selayang Wholesale Market was closed for a number of days following the detection of Covid-19 cases leaving vendors to deliver their own produce, according to a report from the Malay Mail.
Wong Keng Fatt, president of Kuala Lumpur Vegetable Wholesalers' Association said vendors had to ensure local retailers were still supplied.
"Our vegetables are sold on the same day they arrive. Fruits and vegetables are slightly different. Fish and fruits can be frozen for durability, but our perishable products cannot," Wong said.
"So, if we talk about a back-up plan, we have to deal with our customers outside the market.'
Chin Nyuk Moy, president of the Kuala Lumpur Fruits Wholesalers' Association, said fruit that had been imported for Chinese New Year (CNY) celebrations could be lost.
In anticipation of the obstacles for imported fruits and the lack of festivities, some wholesalers have reduced their orders of imported fruits.
Alice Tan, owner of Sin Lee Fruits, told The Star she had ordered five containers of mandarins from China instead of the usual ten.
"One container has about 6,000 fruits but because of the restrictions and the low-key celebrations this year, I did not order more," Tan said.
"The fruits that arrived a few weeks back are selling fast as well, and I had to take an additional three lorries filled with the oranges from another wholesaler in Kuala Lumpur."
Elsewhere, the Sibu Central Market has had run at reduced capacity and has been temporarily closed a number of times following positive cases.
Some traders have turned to online sales to make up for the days they can't attend the market, according to the Malay Mail.
"The Dabai fruit can last up to three days but if we keep them with their leaves and seal them properly, the fruit can stay fresh up to one week. If the market is closed, I will sell the fruit from house to house and via Facebook. I can also deliver them to the customer's house," said Terra Rossa Nuin an exotic fruit vendor at the Sibu Central Market.