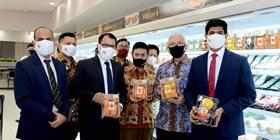 International retail chain LuLu Hypermarkets has expanded its presence in South-East Asia while also promoting the region's fruit exports in the Middle East.
According to a report from the Saudi Gazette, in October LuLu Hypermarkets in Saudi Arabi ran a week-long food festival called Amazing ASEAN: Discover the flavours of Asia.
As part of the festival a wide selection of fresh produce imported from countries including the Philippines, Thailand, Indonesia and Malaysia were spotlighted.
LuLu held a virtual launch event for the festival attended byShehim Mohammed, director of LuLu Hypermarkets Saudi Arabia, and a number of ASEAN ambassadors.
Mohammed said LuLu now has 193 stores worldwide and having stores in these ASEAN countries allows the retailer to source a wide range of food for the Middle Eastern market.
"We are truly honoured to launch this festival that signifies our commitment to bring the best quality products from different countries, which truly makes our brand where the world comes to shop," Mohammed said.
"Our South-East Asian sourcing offices and food manufacturing facilities have a big contribution to our success in ensuring uninterrupted supply at the most affordable prices throughout the year. This event will provide our loyal customers with delicious food products straight from Asia."
In September LuLu Group continued its expansion in Indonesia opening its fourth LuLu Hypermarket in the country.
At the opening Yusuff Ali Musliam, chairman of Lulu Group, said the company had more plans for Indonesia and another two stores would be opened before the end of the year.
"Lulu intends to open at least 15 new hypermarkets and 25 express markets in the next five years along with a state-of-the-art logistics centre in the country," Musliam said.
Enjoyed this free article from Asiafruit Magazine and its team of editors? Don't miss out on even more in-depth analysis, plus all the latest news from the fresh produce business.Subscribe now to Asiafruit Magazine.