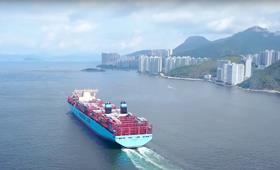 The shared vision of using blockchain technology to create more efficient and secure methods for conducting global trade is the basis of a new partnership between shipping giant A.P. Moller – Maersk and digital technology specialist IBM.
The companies announced their intent to establish a joint venture yesterday (16 January), having already collaborated to build new blockchain and cloud-based technologies since 2016.
"The aim of the new company will be to offer a jointly developed global trade digitisation platform built on open standards and designed for use by the entire global shipping ecosystem," according to a joint release.
Blockchain technology will power the new platform, along with other cloud-based open source technologies such as artificial intelligence and analytics, in order to help companies move and track goods digitally across international borders.
Maersk and IBM said the platform would provide more transparency and simplicity in the movement of goods, providing benefits to producers, shipping lines, freight forwarders, port and terminal operators, customs authorities and ultimately end consumers.
"A distributed ledger technology, blockchain establishes a shared, immutable record of all the transactions that take place within a network and then enables permissioned parties access to trusted data in real time," the release added.
"By applying the technology to digitise global trade processes, a new form of command and consent can be introduced into the flow of information, empowering multiple trading partners to collaborate and establishing a single shared view of a transaction without compromising details, privacy or confidentiality."
A number of high-profile companies have already expressed their interest in the new platform, including General Motors, Procter and Gamble and freight forwarding and logistic company Agility Logistics.
Customs and government authorities, including Singapore Customs and Peruvian Customs, are also looking at ways the platform could enhance supply chain security, while global terminal operators APM Terminals and PSA International will use the platform to improve terminal planning.
Maersk and IBM are currently establishing an advisory board to help further shape the platform and its potential services. Michael White, former president of Maersk Line in North America, has been named CEO of the new company.
"Today, a vast amount of resources are wasted due to inefficient and error-prone manual processes," White explained. "The pilots confirmed our expectations that, across the industry, there is considerable demand for efficiency gains and opportunities coming from streamlining and standardizing information flows using digital solutions.
"Our ambition is to apply these learnings to establish a fully open platform whereby all players in the global supply chain can participate and extract significant value. We look forward to further expanding our ecosystem of partners as we progress toward a global solution."