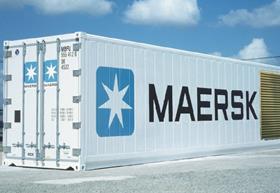 Following a recent trade meeting in Kathmandu, Maersk Line has announced its intent to push for acceleration in trade in Nepal, an import market that has doubled in the past five years.
In June 2017, Maersk Line moved the first-ever container shipment from Visakhapatnam to Nepal, via an exclusive block train service named 'Kathmandu Express'. This service offers a guaranteed fixed transit time from the load port to ICD Birgunj, just over the Nepal border.
Maersk Line was the first shipping line to introduce this product, and since its launch, momentum has built up quickly based on customer demand - the company now expects five to six block trains moving monthly from Vishakhapatnam to Birgunj.
Steve Felder, managing director for Maersk Line India, Sri Lanka, Bangladesh, Nepal, Bhutan and Maldives, stated: "We are confident about the trajectory of the Nepal market, and we would like to be a long-term trade partner in the region. We will be opening our commercial office in Kathmandu in the first half of 2018.
'Our focus has always been to enable trade through our increased service offering and be close to our customers,' he added. 'We intend to carry this commitment ahead for the Nepal market by providing customers with a seamless experience through both Kolkata and Vishakhapatnam."