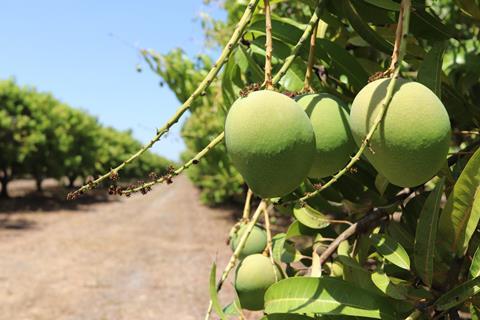 The 2019 Australian mango season is well and truly underway. A total 406,000 trays, each with seven kilograms of fruit, were dispatched to market last week.
It's a later start to the season, according to Red Rich Fruits farm manager, Dave Rutherford.
"Picking this year has started later because of an inconsistent wet season. The groundwater levels are the lowest they've been in 25 years," said Rutherford.
"We expect to be picking into December, whereas last year we finished picking around the second week of November."
There are 4,000 trees on Red Rich Fruit's Darwin River site, with 1,200 R2E2 varieties and a further 2,800 Kensington Prides.
President of the NT Mango Industry Association, Leo Skliros, told ABC Rural last week the original estimates have been revised, due to the aforementioned weather conditions.
'It's probably going to be around 4m to 4.5m trays (season total), which is still a lot of mangoes," said Skliros.
Further south, early season fruit is starting to be picked in Katherine, while hot and dry weather conditions in Western Australia's Kununurra region has impacted the forecasted volumes.
Staying in Western Australia, Carnarvon and Gingin have both experienced favourable flowering conditions as fruitset begins to appear.
In Queensland, Bowen has experienced excellent growing conditions with picking anticipated to begin by the end of October.
Late season fruit is on track in Mareeba and South East Queensland, sure to keep customers happy in the peak of Summer.