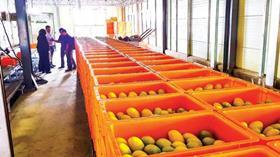 Cambodia's Ministry of Agriculture will help mango growers to meet China's sanitary and phytosanitary (SPS) requirements with the hope of making mangoes the next product the country exports to China, according to local news sources.
In July, the ministry identified a number of fruits it would prioritise gaining access to China for. However, Ke Monyvuth, director of the ministry's crop protection and SPS department, told the Khmer Times mango growers were the only producers that registered for assistance.
The ministry is now providing the growers with technical assistance to help them meet China's stringent SPS requirements in preparation for inspection by Chinese officials.
Monyvuth told the Khmer Times a delegation from China's General Administration of Quality Supervision, Inspection and Quarantine will come to Cambodia in October to conduct inspections at registered farmers.
"We expect that fresh mangoes will be the next agricultural product that Cambodia exports to China and we are now working to provide technical assistance to farmers to prepare for the requirements of the Chinese market," Monyvuth said.
The other agricultural goods the ministry had prioritised included longan, pepper, dragon fruit and fragrant coconut and the ministry had planned to negotiate access to all of these at once.
"We want negotiations on the six agricultural products to take place simultaneously. This will save us time and will allow us to start shipping these products to China sooner," Monyvuth said.