Eastern port emerges as viable option for South African exporters, particularly those targeting Asia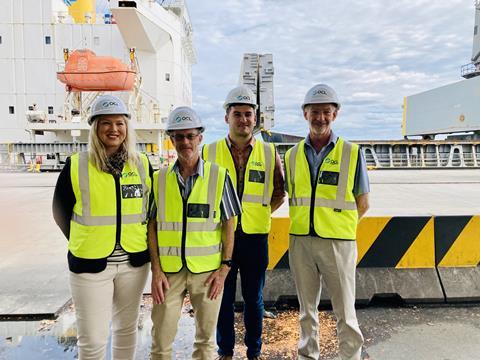 The South African citrus industry's goal of developing Maputo as an export port is starting to bear fruit with three vessels loaded at the port this season.
Located in southern Mozambique on the eastern coast of Southern Africa, the Port of Maputo has long been in the sights of South Africa's northern and northeastern citrus regions, which experience congestion at the port of Durban each year.
The South African Citrus Growers' Association (CGA) has tried to promote Maputo as an alternative for some years, but shipping opportunities from the port have been limited.
The CGA's Mitchell Brooke said shipments out of Maputo this season were targeting non-protocol treatment markets in Asia and "as the season progresses, I'm sure there will be an uptake for exports to the Middle East".
Lucien Jansen, chief executive of Perishable Products Export Control Board, said his company deploys staff to Maputo to conduct inspections of containers and temperature regimes.
"These services are also provided at certain packhouses in South Africa where containers are filled, but if containers are filled in Maputo we can do so there," said Jansen.
DP World Maputo, operator of the Maputo Container Terminal in the Port of Maputo, said Maputo offers a gateway for the South African citrus sector, enabling shipping to the Middle East and South-East Asia through a mix of new options, including a direct sailing service.
DP World said there was great potential for shipments through the port with the South African citrus producing region located just across the Mozambique border producing more than 50,000 FEUs (Forty Foot Equivalent Units).
Recently, a delegation from Zest Fruit and Komati Fruit visited the port recently to discuss opportunities with the port operators.
Zest Fruit said the Port of Maputo represented a collaborative opportunity for the citrus industry to evaluate options to increase capacity for future shipments. It also had the potential to alleviate pressure on South African ports.
The supply chain in Southern Africa has been struggling to cope with disruption this season because of congestion and recent floods. Container shortages have driven up the cost of shipping between 40 and 50 per cent and further added to the problems that growers and exporters are experiencing.
In some cases, shipments have become unviable because of prohibitive cost levels, and the inability to recoup some of these costs in sales prices.