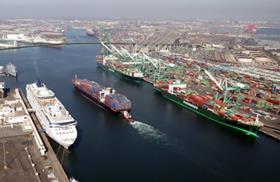 The Port of Los Angeles moved 581,665 Twenty-Foot Equivalent Units (TEUs) in May 2020, a 29.8 per cent decrease on the record-setting month it had 12 months ago.
Gene Seroka, executive director of the Port of Los Angeles, revealed five months into 2020, overall cargo volumes have decreased 18.6 per cent compared to 2019 as he shared the May volumes on 11 June.
Seroka said these numbers were emblematic of the disruption caused by Covid-19 but he believes improvement is on the horizon.
"Compared to last May's historic volumes, the surge in cancelled sailings due to Covid-19 and the trade war, along with shifts in liner services, all contributed to significantly softer volumes," said Seroka.
"As the US economy begins to recover, we expect fewer cancelled sailings and an uptick in cargo compared to previous months. We continue to invest through this global economic downturn in the infrastructure and technology that will assist us in driving our competitive advantage now and in the future."
In May the Port of Los Angeles' loaded imports decreased 28.4 per cent to 306,323 TEUs compared to the previous year and loaded exports dropped 37.6 per cent to 104,382 TEUs.
Meanwhile, empty containers declined 26.8 per cent year-on-year to 170,960 TEUs.