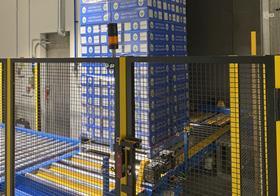 Australian irradiation specialist Steritech has been conditionally approved to treat table grapes and cherries bound for Vietnam at its Melbourne X-Ray facility.
The move is seen as a major boost for growers and exporters in southern parts of mainland Australia, who had to previously send their fruit to Steritech's Brisbane facility for treatment to access Vietnam via the irradiation protocol.
"Local treatment access for Victorian growers will introduce significant efficiencies," said Ben Reilly, fresh produce business manager at Steritech.
"While it has been an unpredictable year, we see new opportunities continuing to open for Australian produce in Asian markets."
Steritech's Melbourne X-Ray facility opened one year ago and promptly started treating fresh fruit exports for a number of international markets, including New Zealand and Indonesia. It has also been used to facilitate interstate trade in the domestic market.
"We are very pleased to announce that the Melbourne X-Ray facility has been conditionally approved to treat Australian table grapes and cherries bound for Vietnam," said Murray Lynch, chief executive of Steritech.
"It has been a challenging year for organisations around the world. We appreciate the industry's support and patience and would like to recognise the efforts of the Australian and Vietnamese governments.
"Vietnam and Australia share a strong agricultural trade and development relationship. This approval will create opportunities for industry in both Australia and Vietnam."
More to come