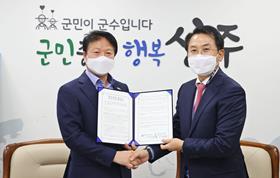 Melon growers in Seongju County have gained access to Korea's new online agricultural sales platform, aT Agrifood Exchange, expanding the service's reach across the country.
A new agreement has expanded the distribution channels available for growers in the county renowned for the production of oriental melons.
The agreement was signed by Lee Byung-hwan, mayor of Seongju County, Lee Byeong-ho, president of the Korea Agro-Fisheries Trade Corporation(aT) andYoon Young-bae,head of the aT Agrifood Exchange.
The aT Agrifood Exchange was launched in 2020 as a response to the Covid-19 pandemic with the aim of improving the distribution of agricultural products and doing to without physical contact.
The platform allows producers to sell directly to buyers, be it wholesalers or retailers, using an auction system. Video is also is also integrated into the platform to allow sellers to share their products.
Yoon said aT plans to expand the platform's reach in other major agricultural production regions such as the provinces of South Jeolla and Jeju.
"With the recent development of communication and video technology, the online transaction of agricultural products has grown significantly," said Yoon.