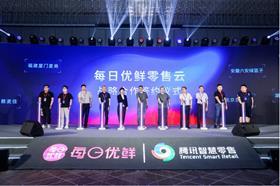 MissFresh, a leader in China's neighbourhood retail industry, has reinforced it's partnership with Tencent, further strengthening its retail cloud services and ensuring its retail partners will have the momentum to operate their online businesses more efficiently.
Working with Tencent Smart Retail, MissFresh will provide its retail partners with a comprehensive software as a service (SaaS) and AI-based technology platform via its retail cloud initiative, enabling them with capabilities such as omni-channel marketing, private domain traffic operation, merchandising and last-mile delivery, and more.
MissFresh provides traditional retailers, especially small and medium-sized supermarkets, with digital services for them to bring fresh groceries and fast-moving consumer goods (FMCG) more easily to customers.
The company's retail cloud platform, which comprises a suite of proprietary SaaS tools, enables these neighbourhood retailers to achieve sustainable growth with efficient, optimised digital operations.
China's neighbourhood retail market reached US$1.86t (Rmb11.9t) in 2020, with supermarkets the largest sales channel.
The neighbourhood retail cloud market for supermarkets has huge growth potential according to iResearch, which projects it will grow from US$29.5bn (Rmb190.7bn) in 2020 to US$292.8bn (Rmb1,893.2bn) in 2025 in terms of gross merchandise value (GMV) at a compound annual growth (CAG) rate of 58.3 per cent.
Tencent Smart Retail first formed a strategic partnership with MissFresh in June 2019, with both parties this week deepening their cooperation in the B2B business.
"Working hand in glove with Tencent Smart Retail has been integral to MissFresh's advancement of its retail cloud services," said Zheng Xu, MissFresh's founder, chairman and chief executive.
"It has enabled us to continuously offer the latest and most optimised merchant tools to supercharge individual retailers' online business growth," added Xu.