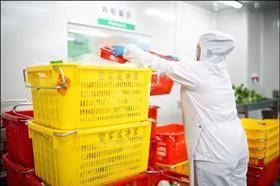 Shenzhen-based agricultural product distributor Wangjiahuan has secured US$86m in a second round of funding led by Meituan Dianping.
According to a report from Technode, Chinese technology giant Meituani plans to expand into the food supply chain with this investment.
Wangjiahuan was founded in 1995 as a traditional food supply business but recently shifted to a technology-focused approach adding services such as group buying and selling.
It purchases fresh produce directly from growers and then sells to a wide range of customers including hotels, restaurants, and other hospitality business in addition to servicing canteens in hospitals, schools, and factories.
Meituan's investment in farm-to-business company aligns well with its core food delivery service and the company sees it an opportunity for growth.
'The non-commercial food supply chain is one of the few sectors that characterise market scale, growth potential, and profitability,' a Meituan spokeswoman told Technode.
The funding will reportedly be used for the implementation of a partnership system, construction of distribution centres, and an agriculture product traceability solution.