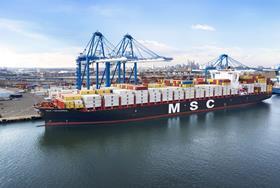 Mediterranean Shipping Company (MSC) has announced the introduction of an express service for cherry and fresh fruit cargo from Chile to Asia, effective 18 November 2020.
To reinforce the express service offering, MSC will also deploy two more vessels exclusively for weeks 49 and 51 of Chile's cherry season.
The cherry express service will run as a joint carrier agreement, connecting Asia and the west coast of Latin America. The service will connect Valparaiso, Chile with a fast transit time to Hong Kong in 23 days.
Shipments will arrive in Nansha and Shanghai in 25 and 26 days respectively, via trans-shipment from Hong Kong.
To complement the regular Cherry Express service, MSC announced it will operate exclusively two more vessels with fast shipping service for weeks 49 and 51.
Cristian Montenegro, commercial director of MSC Chile commented: "We're very excited about the launch of the Cherry Express service. With the introduction of two complementary vessels and the support of our MEDLOG depots in Chile, MSC will be able to reinforce this service by maintaining a constant flow of containers for our export customers."
Pikkei Yuen, inbound sales manager for MSC Hong Kong/South PRC/Taiwan added, "Cherries have become an increasingly popular fruit in China as consumer spending power rises across the country. Furthermore, the timing of the Cherry Express leads up nicely to the Chinese New Year. Red Chilean cherries are especially popular during this period with consumers as the red fruit symbolises prosperity and fortune."