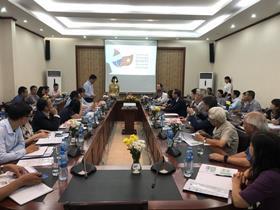 The Netherlands Vietnam Horti Business Platform (NVHBP)finished a week-long visit to Vietnam on 15 November with technology high on the agenda.
The NVHBP team travelled through Vietnam holding a number of seminars and visited the Vietnam Foodexpo, whereFokke Kracht, treasurer of NVHBP, spoke on a panel discussing the topic 'To meet the Netherlands and EU standards and opportunities in these markets for Vietnam's food and agricultural product exporters'.
Further discussions were also had at a seminar at the Saigon Innovation Hub on 14 November. According to the Vietnam News Agency, Mirjam Boekestijn, secretary of NVHBP, spoke and said the two countries had complementary strengths.
Boekestijn highlighted the Netherlands' experience using technology to help it become a top producer despite its small size. Meanwhile, Vietnam has large areas for farming and favourable conditions.
Dinh Minh Hiep, head of the Agricultural Hi-tech Park of Ho Chi Minh City, also spoke at the seminar and said Vietnam needed to utilise these advantages if it was to make the most of the excellent export opportunity available.
Dinh said to improve the efficiency and quality of its production Vietnam needed to be focused on more high-tech solutions and work with countries such as the Netherlands to acquire technologies, in areas such as cultivar research, harvest, storage, and processing.