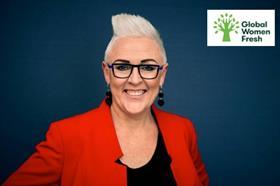 Asiafruit Business Forum has drawn to close with a special broadcast of theGlobal Women Freshwebinar.
Headlined by internationally recognised women's leadership expert, Michelle Redfern, the webinar focused on how women can strategically grow their professional network.
Redfern framed the conversation with a clear definition of leadership, quoting Susan Colantuono, chief executive of management consulting firmLeading Women.
"Leadership is using the greatness in you to achieve and sustain extraordinary outcomes by engaging greatness in others," Redfern explained.
Breaking this down further, Redfern told viewers that networking is central to the concept of "engaging greatness in others.'
"Networking is about seeking out the greatness in others and helping to align those people to your goals and the goals of your organisation," Redfern explained.
"Anytime you're in an environment where there's more than one person, you're networking. Engaging the greatness in others and networking can happen anywhere, including your own team."
When it comes to building and nurturing networks, Redfern said there is no bettertimeto start than the present.
"Networking is about working. For those of you who think 'I don't really want to do this' or 'I don't need to', you need to realise this is part of your job," she explained.
"For me, the golden trinity around entering into a long-term business relationship is simple – people have to know you, they have to respect you and they have to trust you."
The webinar was part of GWF's Advancing Women Formula, which kicked off in August with an event on critical leadership skills.
Today's (20 Novemeber) screening closed out the three-day Asiafruit Business Forum. The online event covered topics themed around 'The Supplier' and 'The Consumer' on the opening two days.
Today's Asiafruit Business Forum session is available on demand to all registered Asia Fruit Logistica ON visitors and exhibitors.Simply click the content tab on the Asia Fruit Logistica ON platform.
Asia Fruit Logistica ON takes place online on 18-20 November.