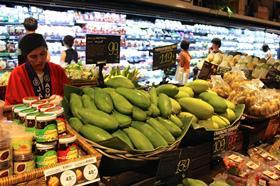 Stephane Coum has been appointed as the new chief executive of Thailand-based Central Food Retail Group as part of a number of changes designed to drive the company's digital strategy, according to local news sources.
Coum will assume the new alongside his position as president of Central Food Retail Company, the arm of the group which runs food stores and premium supermarkets in Thailand, it was reported in the Bangkok Post.
Previously, Coum was director of operations at Carrefour Italia and he has more than 20 years of experience in the global retail industry in countries including China, Singapore, Malaysia, Turkey, and France.
In addition to this change, Alistair Taylor has been appointed president of Central FamilyMart Company, the arm of the group which operates convenience stores.
Taylor joined the Central Food Retail Group in 2004 and has held the position of president for the last decade.
Coum will be tasked with driving the company's New Central, New Retail strategy. The strategy aims to transform the business through the use of technology, borderless retail and digital tools.