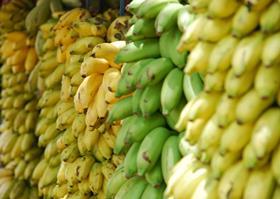 Dole Food Company has partnered with biotechnology company Elo Life Systemswith the aim of developing multiple banana varieties, including Cavendish, with resistance Tropical Race 4 (TR4).
Fayaz Khazi, chief executive of Elo, said the spread of TR4 could have devastating consequences and the company's genome editing technology may provide an alternative solution.
"To date, chemical and cultural approaches to control this disease have been unsuccessful," said Khazi.
"We're excited to work with Dole, which shares Elo's vision to improve the security and sustainability of the global food supply, to address this critical need and help develop new varieties that leverage natural resistance within several relatives of the Cavendish banana."
Patricio Gutiérrez, director of innovation R&D of Dole Tropical Products, said the investment furthered Dole's commitment to finding a solution to the TR4 problem.
"Our investment in this strategic project reflects our aspiration to improve a critically important food crop while helping farmers meet the continuous challenges to produce this food for the planet," explained Gutiérrez.
Under the terms of the partnership agreement, the US-based Elo will be primarily responsible for the discovery, evaluation, and development of multiple approaches to achieve resistance to Fusarium wilt caused by TR4, and Dole will be responsible for field evaluation and commercialisation of resistant Cavendish varieties.
Dole will fully fund the research and development at Elo, in addition to paying royalties on the commercialised plant product.
As part of the collaborative effort, Elo is set to use its proprietary genome editing platform in combination with other tools including its knowledge mining platform, gene discovery pipeline, trait validation workflows, and end-to-end expertise in translational agriculture.