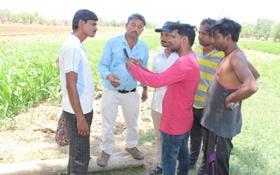 Omnivore has established a new US$150m fund to invest in crop prediction technology to help Indian growers improve productivity and profitability.
According to a report from the Hindu, the ag-tech venture capital firm plans to start raising this new fund by the end of 2021and hopes to invest another US$132m into Indian ag-tech by 2023.
Omnivore currently has portfolio of 30 companies and managing partner Mark Kahn said this new fund would power the firm over the coming years.
"The fund will take care of our needs for four years. We have been seeing an acceleration in technology adoption in agriculture and expect this to continue," said Kahn.
Kahn said India's growers had and would continue to benefit from increasing access to affordable and reliable internet, smartphones and other technology.
The growth of online retailers such as BigBazaar, Amazon, BigBasket and more, was also providing new avenues for profit. However, growers needed to improve production to make the most of these opportunities.
"Increasing the yield and making farmers profitable is the only way forward for farming in India," explained Kahn.