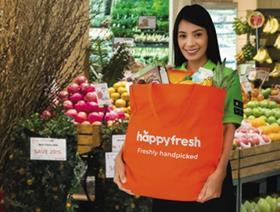 South-East Asian, online grocery delivery service has pocketed US$65m in its Series D round of funding.
Funding exceeded the initial target due to significant demand from new and existing investors. It was led by Naver Financial Corporation and Gafina BV, followed by STIC, LB, and Mirae Asset Indonesia and Singapore.
Founded in 2014, the Indonesian-based company also operates in Malaysia and Thailand and chief executive Guillem Segarra said HappyFresh had gone a step further to achieving long-term profitability with traffic growing 10-20 times in all three countries in 2020.
"We are seeing major changes in customer behaviour.Retention rates and frequency have increased significantly while overall basket size has grown consistently," said Segarra."We attribute this to a major shift in wallet share fromofflinetoonline, which will remain."
According to Segarra, this round of funding will be used to enhance the safety of its operations and improve operational efficiencies.
"We are very busy improving our operations in various markets while maintaining our quality and safety standards. We are just at the beginning of our journey and with all the support received, the road ahead is really exciting," said Segarra.
"Continuing to focus our efforts on providing convenient and safe services, we will enhance our operating model together with the partners we already have with retail supermarkets across the region.
"This will unlock additional operational efficiencies, higher levels of service, and quality control to further enhance the customer experience.We want our customers to get all the groceries they need fresh and even faster, ensuring an easy online home shopping experience."
HappyFresh also plans to expand the reach of its service area in Indonesiapartnering with more supermarkets, both national and local.