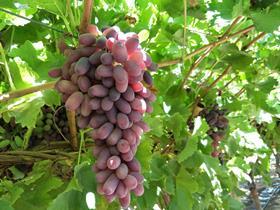 Australian retailers have got behind a new minimum maturity standard for locally-grown table grapes.
Developed by the Australian Table Grape Association (ATGA), the standards will be introduced this month, coinciding with the beginning of the 2019/20 Australian harvest, which begins with Emerald in late October.
It is the first time that major retailers have come on board to adopt the Australian industry standards, having previously adhered to their own maturity guidelines.
ATGA CEO Jeff Scott said the new standards aimed to "give consumers the confidence to purchase more table grapes", which would generate repeat purchases.
The new minimum standards apply to a number of public varieties grown in Australia. For the Crimson, Flame, Red Globe and Thompson varieties, at least 80 per cent of fruit in a representative sample must have at least 16oBrix.
Meanwhile, the Menindee, Sugraone and Superior varieties must have at least 80 per cent of fruit in a representative sample with at least 15.5oBrix.
"The table grape industry is seeking to have all growers harvest their fruit at the optimum maturity," Scott said. "This will ensure that the majority of Australian table grapes purchased from major retailers will be fresh and sweet and provide consumers with a consistently good eating experience, throughout the whole season."
The new minimum standards are based on the analysis of maturity monitoring data carried out over the past two seasons, as part of a project – Table grape supply chain quality 2017-2020 – focused on increasing demand and consumption of Australian table grapes.
Research data showed that standards based on Brix measurement alone could deliver increased consumer acceptability, and in June 2019 the industry agreed to adopt the Brix measure, instead of the combined Brix and Brix-acid ratio measures previously used.
ATGA developed the new standards after significant consultation with major retailers, suppliers and individual growers, and the standards may be seasonally adjusted as required and extended in future to other varieties.