Global fresh produce supplier Camposol and China's leading retail chain Yonghui Superstores have signed a new strategic partnership, expanding their existing relationship.
Luis Miguel Baanante, General Manager of Camposol Foods Trading (Shanghai) Co. Ltd, Camposol's group subsidiary, and Raymond Mou, Yonghui's Manager of imported fruit , signed a Memorandum of Understanding on behalf of their respective companies during a signing ceremony at Yonghui's Shanghai headquarters on 16 December 2021.
David Gamarra, Consul General of Peru in Shanghai, as well as Sam Li, Yonghui CEO, were invited as witnesses. As part of the agreement, the two parties agreed to "explore strategic initiatives and cooperation together in the promotion of quality and healthy fruit in China".
In his speech at the event, Yonghui CEO Sam Li said Yonghui had rapidly expanded its fresh food direct sourcing in recent years and is in the process of establishing its multi-dimensional fresh food supply chain system. The further strengthening of partnerships with leading global brands such as Camposol is a key component of this strategy.
"Yonghui has been working with Camposol on blueberries and avocados since 2019, and our collaboration deepens with each year," Li said.
"In the future, we hope to work closely together across all relevant categories, and strengthen our partnership in both breadth and depth, so that consumers can enjoy more delicious, nutritious and healthy Peruvian fruit more easily."
Camposol supplies fruits not only from its big farming and production operations in Peru, but also from its new locations in Colombia, Uruguay, Chile and Mexico, to more than 40 countries around the world.
Its key categories include blueberries, avocados, mangoes, table grapes and citrus. Camposol Trading (Shanghai) General Manager, Luis Miguel Baanante said the newly signed partnership with Yonghui will bring growth to all of its categories operating in the China market.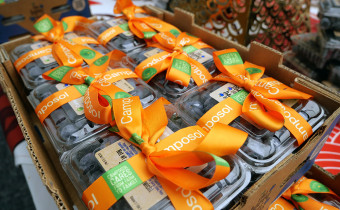 "Yonghui and Camposol started cooperation quite soon after the opening of our office in Shanghai, a collaboration that in this year has taken a significant speed and growth for the benefit of the demanding Chinese consumers who today seek quality, fresh and healthy food," said Baanante.
"if we combine stable volume, consistent quality and fully traceable fruit together with the local capabilities Camposol have developed in China, then we have the perfect momentum to joint efforts with Yonghui to increase and speed up our cooperation.
According to the agreement, the two parties will enhance their collaboration and communication beyond existing businesses. As Yonghui further diversifies its channels, Camposol will directly enjoy all the associated benefits. Furthermore, they will design joint marketing promotion programmes annually, to increase market awareness of quality and traceability, and encourage consumers to purchase high quality traceable fruit from Yonghui.
As the holiday season draws near, Yonghui and Camposol have already made plans to collaborate.
"At present, blueberries are already a 100m-yuan product for Yonghui. Thanks to our partnership with Camposol, sales of blueberries continue to grow exponentially for us," said Thomas Lan, manager of import project for western products at Yonghui.
"Christmas and the New Year are upon us. We have planned large-scale blueberry promotional events with Camposol. Additionally, we will also strengthen our collaborations with the arrival of Peruvian grapes at the end of December, and mangoes in the near future."