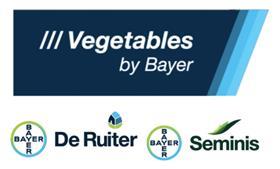 Bayer has moved to unite two of its most recognised brands.
Vegetableseeddevelopers Seminis and De Ruiter will join forces under the 'Vegetables by Bayer' platform.
According to a release from Bayer, the new entity will create "one shared purpose" for the two brands, which deliver solutions for customers in open-field and protected environments.
"By bringing together world-class experts and resources from across Bayer, the new Vegetables by Bayer umbrella enables our Seminis and De Ruiter brands to provide value to our customers and partners in new and exciting ways," said Darren Wood, commercial lead of vegetable seeds Australia and New Zealand at Bayer.
The move has been supported by the release of a new brand identity, positioning and a global website.
The launch coincides with the United Nations' International Year of Fruits and Vegetables 2021, which aims to raise awareness of the benefits of fruit and vegetable consumption.
"From our industry-leading R&D to tailored solutions that go beyond the seed to meet the evolving needs of the market, Vegetables by Bayer reflects our commitment to helping our customers grow their businesses so together we can foster a healthier, more sustainable world," said Wood.