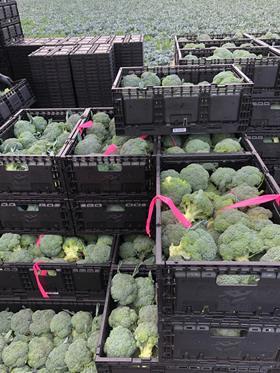 Queensland government researchers are using simulated sea freight conditions in a bid to improve the performance of vegetables exported by ship during the coronavirus (Covid-19) pandemic.
Minister for Agricultural Industry Development and Fisheries, Mark Furner, said a new pilot project with AUSVEG aims to help producers export vegetables more reliably by sea to Asia and New Zealand.
"Covid-19 travel restrictions have limited capacity for air freight so there's substantial interest from vegetable exporters in the technical feasibility of sea freight," Furner said.
"This is vital research to ensure growers remain competitive during the pandemic and to keep the industry on track to achieve a target of growing the value of vegetable exports to A$400m by 2025.
"This is another way we are investing in the agriculture industry as part of Queensland's Unite and Recover plan for economic recovery. Queensland is the place to be for research and development in agriculture, and it will have a direct benefit in exports and jobs," he added.
Ausveg national manager – export development, Michael Coote, said the value of national fresh vegetable exports dipped 6.3 per cent in 2020 to A$263m, with volumes down 6.6 per cent over the year.
"While exports of some vegetable crops increased despite the disruptions caused by Covid-19, exports of highly perishable vegetables that have historically only been exported by air freight declined," said Coote.
"The pandemic has disrupted both sea and airfreight over the past 12 months, adding to the challenges that exporters have faced trying to continue servicing their customers in international markets.
"Capacity in the airfreight network may take a number of years to return to pre-covid levels, and it is anticipated that airfreight prices won't return to pre-pandemic rates in the foreseeable future."
Coote said investigating opportunities to move product from airfreight to sea freight to service a wider range of international markets may prove critical if the airfreight network does not recover in the future.
"This research project is important to provide vegetable exporters with additional insights into which export markets are technically viable by sea freight, and will help underpin short and longer-term export growth for the industry," he said
Department of Agriculture and Fisheries director of vegetables, Ian Layden, added researchers are working with leading Queensland producers of selected vegetables including broccoli, green beans, sweet corn and iceberg lettuce.
"Pilot trials have been conducted at Gatton and Nambour using sea freight simulations to mimic export supply chain conditions," explained Layden.
"We're testing a range of temperatures and atmospheric conditions over time in our purpose-built post harvest facilities and a range of packaging options that will better suit sea freight conditions."
Layden said the preliminary results from the studies are promising.
"The quality and shelf life of broccoli for shipment to Japan and Taiwan can be improved using modified atmosphere bags where ice does not directly contact the broccoli," he explained.
"We've demonstrated that sweet corn can be successfully exported by sea with the husk on which is preferred by Japanese customers and using controlled atmosphere containers to retain a fresh appearance.
"Selecting the right variety of iceberg lettuce is critical to maximising quality and shelf for the voyage to Asia, while robust varieties and packaging is important for mixed loads of sweet corn and green beans bound for New Zealand," added Layden.