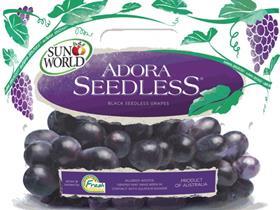 Commercial volumes of Sun World's Adora and Autumn Crisp grape varieties will hit Australian retail shelves for the first time in early 2016.
Grown and marketed by the Costa Group and Perfection Fresh, the move will provide an extended season of locally grown table grapes, with the black Adora being harvested from April to May, while the season for the white Autumn Crisp will extend from March to May.
"We started growing Sun World grapes because of their unique taste and quality – and the fact that they're seedless means they're the most versatile," said Frank Costantino, a grower based in the Robinvale production hub. "We grow the Adora and Autumn Crisps grapes – both of which are especially fresh, plump and crunchy and they store well too. The new varieties mean a longer growing season for us, which is another attraction."
Along with the introduction of Adora and Autumn Crisp, Sun World and its Australian partners will also focus on growing awareness for the Midnight Beauty, Scarlotta and Sable Seedless varieties this season.
The campaign will focus on identifying the produce by brand, allowing consumers to recognise grapes by both their name and distinct packaging.