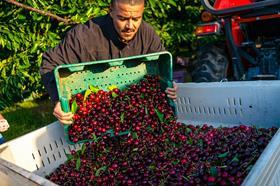 With the current Northwest cherry season beginning to wrap-up, signs suggest the crop will finish near what the Northwest Cherry Growers' (NWCG) predicted before the season started.
After the first 62-days of shipping, a total 18,288,202 of 20lb (9kg) boxes had been shipped. In a release, NWCG noted, "Mother Nature certainly impacted the daily volume curve of cherry shipments from the Northwest, but with several high elevation orchards yet to go, August should see a steady but reduced flow of exceptionally large and high-quality cherries."
Consumers in the US, as well as key export markets such as China, are being urged to stock-up on cherries, as restrictions related to the coronavirus (Covid-19) pandemic continue to impact the supply chain, with freezing the fruit being recommended.
"Messaging is not only focusing on the health benefits of cherries but reminding them that there are only a few short weeks left to enjoy and preserve the season. With the some of the biggest and best cherries on the shelves now, it's beneficial for everyone to remind customers that they freeze easily and store well for months," NWCG said in a statement.
The Northwest cherry industry shipped an average of 268,000 boxes of cherries worldwide per day over the last week (24 – 31 July), a 17 per cent decrease compared to the same period of the 2019 season.
July overall has averaged 340,000 boxes per day in the 2020 season, compared to the 2019 crop of 433,000 boxes daily in July to date.
The yellow cherry crop has all but finished, with only a few thousand boxes shipping from very late season orchards. It's assumed the 2020 crop will finish at approximately 1.9m 15-pound boxes (6.8kg).
Early season rain and high winds had threatened the yellow cherry season, and while it's a higher number than expected, the total volume remains significantly less compared to the 2.4 and 2.6m box crops of the 2019 and 2018 crops respectively.
Meanwhile in Chengdu, China, over 40 media representatives, ranging from online and office news media to popular bloggers, attended a Northwest Cherries PR event aimed at creating awareness around the fruit and the late season opportunities.
Along with key media, the head of the US Chengdu consulate office, Jim Mullianx, attended the event.