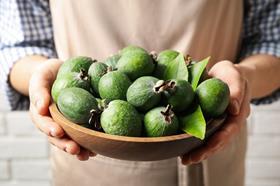 New Zealand's 2022 feijoa crop looks set to be a good one.
Growing conditions leading into harvest have been favourable, according New Zealand Feijoa Growers Association (NZFGA) manager Ian Turk.
"Warm and wet weather patterns have provided the perfect ripening conditions for this season's harvest. While some smaller growing areas have had significant storm events, the bulk of the regions are in good shape for an early March start," said Turk.
While the Covid-19 pandemic has presented challenges around picking and packing fruit over the last few seasons, Turk was hopeful there would be minimal disruption to this season's harvest.
"Most orchards are small enough to not struggle too much with labour shortages and growers are encouraged that food production has been named as an essential category," Turk said.
"From orchards through to packhouses, systems are now in place to manage the pressures that Omicron is likely to place on the industry and I believe we're heading into this season as well-prepared as we can be."