Relief funds to assist recovery efforts, as kiwifruit harvest begins
New Zealand's fresh produce industry is rallying around growers and packers impacted by Cyclone Gabrielle.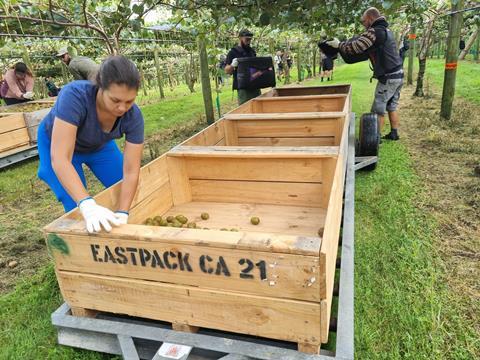 Representative body New Zealand Kiwifruit Growers (NZKGI) has activated its Grower Relief Fund to provide disaster relief to members whose orchards and fruit have suffered damage from the weather event.
"The distribution of the funds will be for the repair and restoration of kiwifruit orchards," according to a release from NZKGI.
Meanwhile, New Zealand Apples & Pears has set up an online portal where growers can share and request machinery and other resources.
The New Zealand Government has agreed to an interim NZ$50m relief package for cyclone affected regions, according to Stuff NZ. It's expected to include discretionary funding for flood recovery, business continuity, support for resiliency and mental wellbeing.
Crops hit
While the situation continues to evolve, it's clear Cyclone Gabrielle will have a significant impact on a number of crops.
NZKGI chief executive Colin Bond said heavy wind and rain hit every kiwifruit growing region in New Zealand at a particularly critical time for fruit growth.
"Although the situation continues to evolve, our primary concern at this time is with the immediate needs and wellbeing of the impacted members of our industry," Bond explained.
"I have been working closely with other leaders from the horticulture industry, government and stakeholders within our industry to ascertain the extent of the damage and the immediate needs of our people. No doubt that there will be medium and long-term needs for some those impacted too."
According to NZKGI, Cyclone Gabrielle and other weather events over recent months mean the industry is unlikely to match the 160m trays of kiwifruit (green, gold and red) exported to overseas markets last year.
The New Zealand kiwifruit harvest got underway last week, with red kiwifruit picked on an orchard in Pukehina, outside Tauranga, on Wednesday (16 February).