New Zealand Trade and Enterprise joins forces with leading fruit exporters to stage retail fairs for Made with Care campaign across Vietnam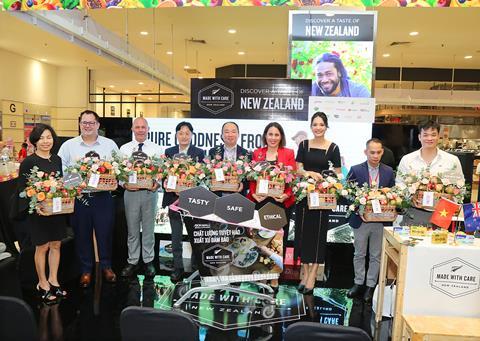 Premium New Zealand food and produce is being showcased to Vietnamese consumers via five of the country's leading retailers under the Made with Care campaign, with in-store activations running across the nation from 19 May to 31 July.
Made with Care, a global campaign to promote New Zealand food and beverage products, was launched internationally by New Zealand Trade and Enterprise (NZTE) in October 2020.
The initiative reinforces values unique to New Zealand's food and beverage industry, originating from its Māori culture.
"New Zealand is blessed with exceptional natural resources and an environment perfect for producing food and beverage," said NZTE trade commissioner and consul-general to Vietnam, Joe Nelson. "But what distinguishes our products from others is the unique connection our people have with the land and sea.
"In Māori culture this connection is described by the principle of Taiao, which acknowledges the interconnectedness of people and the natural world. It is the care that is inspired by this connection that enables us to turn our natural advantage into truly outstanding food and beverage. Care is what drives us to produce tasty, premium, quality, safe, nutritious and ethical food and beverage."
A series of activities have taken place in Vietnam to leverage on the Made with Care campaign since it launched internationally, including fruit donations and tie-ups with KOLs and NGOs. But the retail fairs mark the first high-profile in-store activations following the easing of Covid restrictions in the country.
Major retailers Aeon, WinMart, BRG, MM Mega Market and Lotte are all hosting retail fairs featuring New Zealand food and beverage in stores across the country
"These retail fairs have New Zealand-themed display booths where customers can participate in fun activities such as a do-it-yourself (DIY) fruit basket workshop, games, fresh fruit sampling and dairy product sampling," said Nelson. "They also receive food and beverage goodies, such as an apple gift box for children, and Made with Care gifts, with purchase."
Leading fresh fruit growers and exporters account for the majority of the 14 New Zealand food and beverage companies taking part in the Made with Care retail activations, with apples and kiwifruit featuring prominently.
Participants include Bostock, Ecostore, First Fresh, Fonterra, Freshco, Freshmax, Golden Bay Fruit, Heartland Fruit, Picot Productions, Rockit Global, Scales Corporation, T&G, Westland Dairy and Zespri.
'RIPE FOR EXPANSION'
Food and beverage products make up almost two-thirds of New Zealand's total exports to Vietnam, garnering NZ$640m in export revenue in the year-ending 30 June 2021. Exports comprise dairy, fresh fruit and vegetables, meat and wine.
Fruit and nuts represent New Zealand's second-largest food and beverage export to Vietnam, earning NZ$124.5m in this period. Apple exports in particular have grown strongly over the past two years, reaching NZ$89.44m in the year-ending 30 June 2020, up from NZ$60.82m in the year prior, and increasing again in the year-ending 30 June 2021 to some NZ$97m.
"New Zealand is the second-largest supplier of apples and cherries to Vietnam, and this market is ripe for expansion," said Nelson.
The Made with Care retail campaign kicked off in Aeon stores on 19-25 May, with a follow up on 26 May-1 June. It moves to WinMart (1-15 June), BRG (15-25 June) and MM Mega Market (23 June to 6 July) before wrapping up with Lotte (20 June to 20 July).
For more on this campaign, and a special report on Vietnam's fresh fruit import market, see the June edition of Asiafruit Magazine. Contact subscriptions@fruitnet.com to order your copy.