Industry bodies underline benefit of additional 3,000 seasonal workers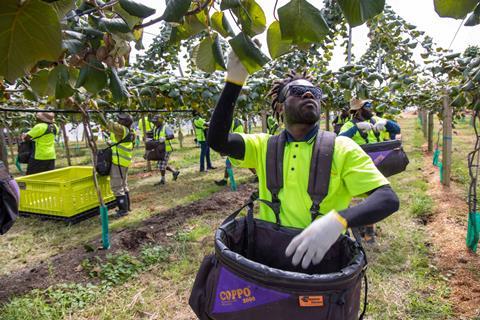 New Zealand industry groups have welcomed a federal government decision to increase the cap on Recognised Seasonal Employer (RSE) workers.
The new RSE cap will allow a total of 19,000 workers from the Pacific Islands to work in the New Zealand's horticulture and wine sectors per annum.
"The additional 3,000 places is a 19 per cent increase on the previous season, and acknowledges the industry's current needs based on strong growth, and the lower number of working holiday makers onshore right now," said New Zealand immigration minister Michael Wood.
Colin Bond, chief executive of New Zealand Kiwifruit Growers (NZKGI) described the move as an "much needed win" for his industry.
"NZKGI is pleased with the announcement of this increase which should go quite some way to support our labour supply for the preparation and harvest of the 2023 season," Bond explained.
"The increase will provide more labour certainty and could support better fruit quality – two important areas that the industry is currently challenged with."
Terry Meikle, chief executive of New Zealand Apples and Pears (NZAPI) said the promises of added workers help the peak body's members move forward with investment and business planning as they head into their new season.
"We are still working through how the extra RSE workers will be allocated across the horticulture and viticulture sectors, but what is important is that this scheme, now in its 15th year, is an essential element in New Zealand's bilateral relationship with several Pacific Island nations," Meikle said.
The New Zealand government has committed to a full review of the RSE scheme.
Nadine Tunley, chief executive of HortNZ, said the horticulture industry was keen to work with the government on the review, to ensure it is fit for purpose and delivers for Pacific Island communities.
"We want to build on the past 15 years and ensure the ongoing success of the scheme in a post-Covid world," Tunley said.