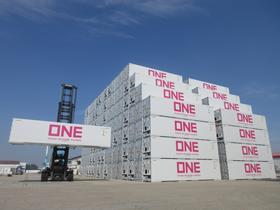 In its first year of inception, Ocean Network Express, formed with the joining of three Japanese liner companies MOL, NYK and K Line, has made an investment of 14,000 new state of the art refrigerated containers.
Of these, 13,000 are 40-foot and 1,000 are 20-foot units. Two thousand one hundred of the containers are also equipped with controlled atmosphere technology, which the company says will help maximise cargo value on delivery.
"With this new investment, ONE will be able to further broaden its market position while investing in the latest technologies to meet future customers demand," said ONE's CEO, Jeremy Nixon.
The new containers were delivered and integrated into the existing fleet through late July to early August, capturing peak demand from Southern Hemisphere markets.
Established in 2017, the Singapore-headquartered company began its operations on 1 April, 2018 and has a fleet of over 1.55m TEUs. According to the company ONE is now the sixth-largest shipper in the world.