New Zealand supplier partners with WinMart to grow organic apple sales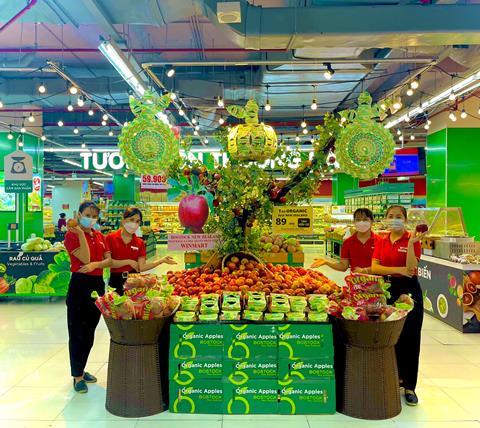 A healthy dose of competition has helped educate Vietnamese consumers about the organics category.
Managers at WinMart stores across the Asian nation have taken part in a contest to create the best organic Fuji apple displays.
The competition is part of a wide-reaching campaign from Bostock New Zealand, which has directly supplied WinCommerce ­– which owns and operates 3,000 WinMart/WinMart+ supermarkets and mini marts across Vietnam – with organic Fuji this season.
"The display competition and the promotional price has gained a lot of attention from end-consumers for the exclusivity of Fuji organic in WinCommerce from Bostock," according to a media release from Bostock New Zealand. "Hence, even when the promotional programme ended, WinCommerce still received repeating requests from customers who for organic Fuji."
Bostock New Zealand directly supplied organic Fuji to WinCommerce for the first time in 2021, with the pair strengthening their partnership this season.
"This is Bostock New Zealand's second year directly supplying organic Fuji to WinMart but the first year on an exclusive basis," according to a comment from WinCommerce's commercial import team in the media release. "Both companies recognised this would support WinMart to grow the volume beyond a niche product to a more mainstream purchase."
Huong Nguyen, Bostock New Zealand's market representative in Vietnam, said it was rewarding to see demand grow for organic apples over the last two years.
"Vietnamese consumers are placing a stronger focus and priority on their personal health and food safety," Nguyen explained. "As more retailers move to stocking organic product, organic is becoming more accessible and widely available to the average consumer."
Bostock New Zealand's international market manager, Jane Maclean, said her company would continue to educate end consumers about organics in the hope of growing the category.
"Organic apples can also mean more cosmetic imperfections, which is new for Vietnamese consumers, who do look for the perfect apple," said Maclean. "But organic apples are the healthiest and safest option – and the eating experience is the same, if not better.
"Most Vietnamese people are aware of organic and the benefits but have previously seen it as unaffordable or only for the very wealthy.
"With Bostock New Zealand apples being stocked more widely across WinMart stores in Vietnam, we have shown that organic is available to anyone and everyone who wants to best look after their health."