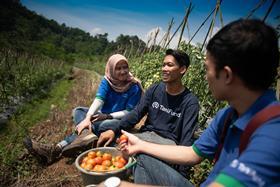 The Covid-19 pandemic saw the growth of online sales of agriculture products in Indonesia, a trend that is attracting young people back to the sector.
According to a report from the Dutch Ministry of Agriculture, Nature and Food Quality's agricultural attachment network (AAN), Indonesia's youth see potential in the evolving business model.
Services such as TaniHub and Sayurbox have grown during the pandemic and young people like Lidya Sophianihave left the cities to participate in the change.
Sophianinow oversees 15 full time workers on a 5ha farm growing oranges, purple cabbage, broccoli, romaine lettuce, string beans, and tomatoes.
"Many people living in urban areas with highly demanding jobs are becoming more aware they need food; and not just any food, but healthy food. This trend is on the rise, and I think it will continue to rise," Sophiani told AAN.
"We need more young people in the industry. We need those who can think of more sustainable ways to produce food as land shrinks while we have more and more mouths to feed everyday."
According to the Indonesian Statistics Agency (BPS), Indonesia lost 5.1m farmers between 2003 and 2013 and data from the National Labor Force Survey in 2019 showed only 23 per cent of people aged between 15 and 24 worked in the agriculture, forestry and fishery sectors.
Still, there are young people like Sophiani who are interested in the challenge of bringing a fresh approach to Indonesian agriculture.
"It's not easy creating a new access to a market. Today the competition is so tough, so if you want people to remember your products have to have a very strong identity," said Sophiani.
"I think the challenge is more on creating the market for me, since volatility of commodity prices is also a huge impact."