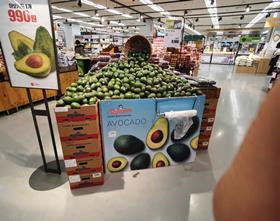 While most of Korea's fresh fruit import categories saw a decline in volumes during 2020 amid the impact of the Covid-19 pandemic, avocados bucked the trend, increasing by 61 per cent year-on-year to top 13,000 tonnes.
The rapid growth has continued in 2021, fuelled by a surge in Peruvian imports.
Korea's total avocado imports stood at 10,181 tonnes through the end of July, according to Korea Customs figures, up 77 per cent on the 5,740 tonnes imported during the first seven months of 2020.
Imports spiked during June and July, with the overwhelming majority coming from Peru. Volumes more than doubled year-on-year for both months, reaching 2,177 tonnes in June, up from 912 tonnes in 2020, and 2,503 tonnes in July, up from 1,263 tonnes in 2020.
The bumper shipments from Peru saw record low wholesale and retail prices, according to leading importer Soo Il Commerce. While this helped to boost Korea's consumption levels, the market collapsed in mid-July (week 29) under pressure from July arrivals.
"From week 29, the Korean avocado market hit a historic low, and it will remain depressed until the end of September due to continued oversupply and global logistics problems, which have delayed container arrivals and caused an overlap in arrivals," said executive managing director of Sooi Il Commerce, June Choi.
The oversupply situation has led to Mexican shipments being postponed. "We don't expect any Mexican arrivals until September, due to their higher cost prices and the market collapse," said Choi. "Plus, New Zealand should regain its leading market position during October and November because it has lower CIF prices. The duty on New Zealand avocados is only 9 per cent versus 30 per cent for Mexico."
Choi told Fruitnet that this year's market slump with Peruvian imports was driven by an influx of new importers entering the market with no experience of handling avocados. "I don't expect Peruvian import volumes to be this high again in 2022 – I'll think they'll be much lower than 2021, and that the number of importers will be reduced again, allowing the market to stabilise."
Despite the disruption, Choi said Peru has established its reputation as a consistent supplier in terms of volume, quality and pricing during Korea's summer months, helping to grow the overall avocado market.
Colombia debuts
While Colombia made its first shipments of avocados to Korea this July, Choi said Peru's dominance during the summer months makes it difficult for Colombia to gain a foothold.
"The main challenge sourcing from Colombia is that their fruit trends towards smaller sizes such as count 60s and 70s in double layers (11kg), whereas Korea's preferred count size is 48s in double layer," he noted.
"Peru's prices are also very aggressive with good size manifest and shelf-life, so Colombia will struggle to make a dent on Peru's share for the time being."
When the Peruvian season finishes, Colombia could compete with New Zealand, Chile and Mexico, according to Choi, although he noted that this will depend on its ability to meet preferred size specifications at acceptable prices. Sourcing fruit from Colombia that is certified to Korea's quarantine requirements is also a challenge, he added.
Leading global suppliers discuss Korea's emergence as one of Asia's most exciting markets for avocado imports on the Asia Track at Global Avocado Congress on 2 September 2021. Register free here.