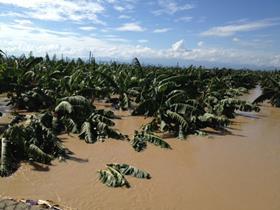 Philippine banana exports in 2013 may decline by a third because of damage from Typhoon Bopha, according to the latest estimates from industry group the Pilipino Banana Growers and Exporters Association (PBGEA).
The country's government has stated around 26,000ha of banana plantations were damaged by the typhoon, which hit the banana production hub around Compostela Valley in early December.
"If what the Department of Agriculture said is true, then output, indeed, is bound to decline by at most half," PBGEA president Steve Antig told the Manila Standard Today over the weekend.
More likely, however, he put the figure at a decline to 100m boxes from 150m boxes of exports if measures to rehabilitate the industry were not rapidly put in place.
Overall Philippine banana production reached 200m boxes in 2011, worth US$760m.
The banana industry is continuing to push for more government assistance.
"We are asking the Department of Agriculture to broker for us lower rates on loans available in the market," Antig explained.
"As it is, LandBank is not offering lower rates as previously reported. They maintained the 8 per cent interest. Despite us being commercially big and all, we have no means to pay for that given our circumstances."
Antig said PBGEA members hoped to secure loans with a 4-5 per cent interest rate.