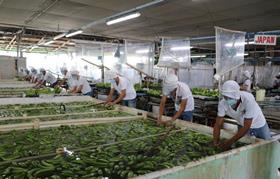 The PhilippineDepartment of Agriculture (DA) has outlined its plans to sustainably increase the production of the country's two most valuable exports, bananas and pineapples.
According to the Philippine Statistics Authority (PSA) Philippine banana exports reached US$1.95bn in 2019, $1.64bn in 2020, and roughly US$920m from January to October 2021. Exports of pineapple products (canned, juice, concentrates) amounted to more than US$300m from January to October 2021.
Given the importance of these fruits, the DA has committed to further investment and support for these industries. It has also highlighted the export potential of other traditional and emerging high-value crops and said there is an opportunity for knowledge sharing across industries.
"We enjoy a comparative advantage in banana and pineapple, and for this reason, we at the DA invest in the development of the high-value crops subsector through our High Value Crops Development Programme (HVCDP). Undoubtedly, high-value crops can provide farmers and their families, entrepreneurs and other players in the agriculture value chain sustainable income," said agriculture secretary William Dar.
"This year, the DA will continue to encourage more farmers to shift to crops that are more sturdy,resilient, and with ready market, thus more profitable. This in addition to providing them production support, post-harvest facilities, and value-adding mechanisms to make Philippine farm and fishery products more globally competitive.
"Further, we will maintain our position as a major exporter of banana by containing the 'Panama disease,' and exploring more markets for our pineapple. In partnership with the private sector and farmers' groups, we will intensify our efforts in promoting crops with high export potentials like mango, cacao, coffee, rubber, and okra.
Dar identified an opportunity for growth in the Japanese market which he said recently lifted the 100 per cent mandatory inspection requirement for Philippine bananas. There are currently 82 Philippine companies exempted from 100 percent inspection following a high level of compliance to phytosanitary requirements.
Okra was another product making progress in international markets. It gained access to the Korean market in 2021 and was well received said Dar.
Dar said the HVCDP and other DA agencies would be aggressive in forging partnerships with the private sector, fruit and vegetable industry associations, and farmers' groups to expand and explore other potential export markets, and develop more innovative and attractive packaging, and marketing strategies.